Easter Blog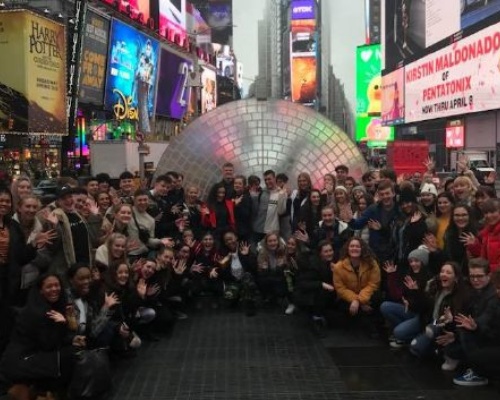 Here's some of what has been happening at BOA during the Easter term.....
It has been a busy term as usual at BOA! Over the February Half Term, BOA took 64 students from Years 12 and 13 to New York, allowing them to explore the Big Apple and take part in Broadway Workshops with industry professionals.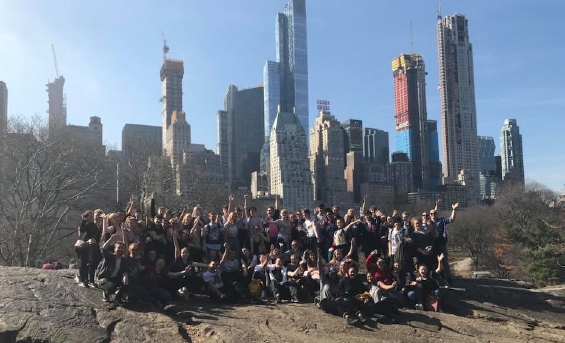 The action-packed 5 days consisted of the students ascending the Empire State Building, visiting the 9/11 Museum and Memorial, the Lincoln Centre for Performing Arts, Central Park and Zoo, Radio City Music Hall, seeing the Statue of Liberty from the Staten Island Ferry, taking part in 2 workshops and shopping in Times Square. And if all that wasn't enough, the students were also lucky enough to see two shows on Broadway - Anastasia and Hello Dolly starring Bernadette Peters.
The students had a brilliant time on the trip, and really enjoyed their busy but exciting schedule. They even experienced some sun, which is very rare for February! Thank you to the staff members who attended the trip, and to the students for their good behaviour and conduct.
Due to the success of last year's exchange programme with the Danish students from Balletskollen, BOA welcomed a further 19 Danish students from 16-22 March, making this the 4th year of their visits.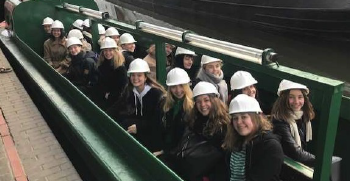 The students spent their Saturday shopping in Birmingham, allowing them to explore the famous Bullring, art galleries and museums that the city has to offer before heading to dinner. Following on from this, the group of BOA and Danish students spent the Wednesday at the Black Country Living Museum to spend the day learning about the famous industrial history of Birmingham. We look forward to continuing the work with our exchange programme.
The English department have been busy in the run up to exam season, with Year 11 English students completing a Spoken Language endorsement as part of the GCSE course, giving the students the opportunity to prepare and deliver speeches on a topic of their choice. Topics ranged from fiercely passionate and emotive critiques of US gun policy, to mature and perceptive reflections on the crisis in masculinity in contemporary society, to a speech advocating why we should all do weightlifting!
The students spoke with maturity and sophistication, often sensitively handling very challenging topics. We are incredibly proud of the efforts the students went to, and were certainly inspired, even moved, by the power of the speeches the students gave. Students commented that this process had been really interesting and valuable, and had also supported them in their preparation for their English Language exam, where they will have to produce a piece of viewpoint writing.
The Dance pathway have been exceptionally busy over the past few weeks. Over the weekend of 16-18 March, BOA Dance companies Industria, Nova and Rhythmia performed over the 3 days at the Move It Exhibition at the ExCeL Arena in London. On the Friday Industria gave an incredible performance on the main stage for the first time and both Nova and Rhythmia also gave amazing performances on the showcase theatre. The annual event sees hundreds of professional schools, colleges and dance companies showcasing their potential to visitors from all over the country.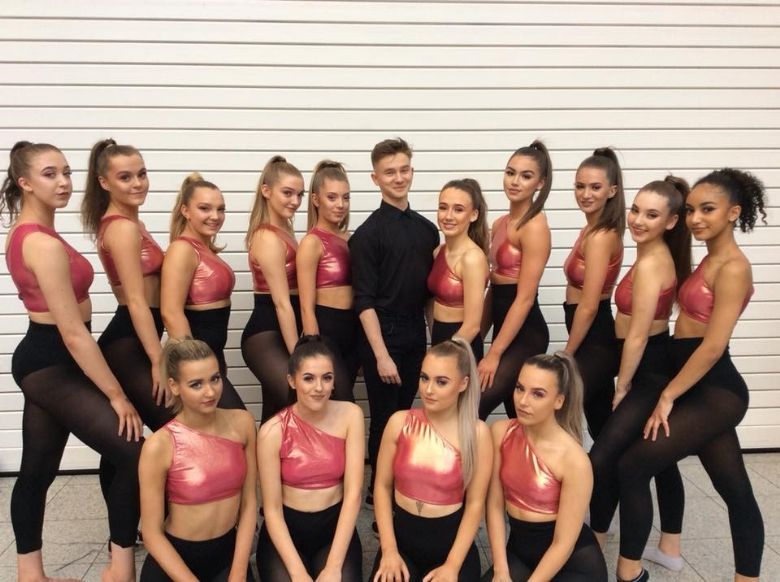 Rythmia at Move It 2018
Alongside the dance groups performing, the BOA Admissions team, teaching staff and The Old Rep staff were on hand to answer any questions from interested and prospective students, giving advice and guidance on how to apply for BOA and talking through the application process.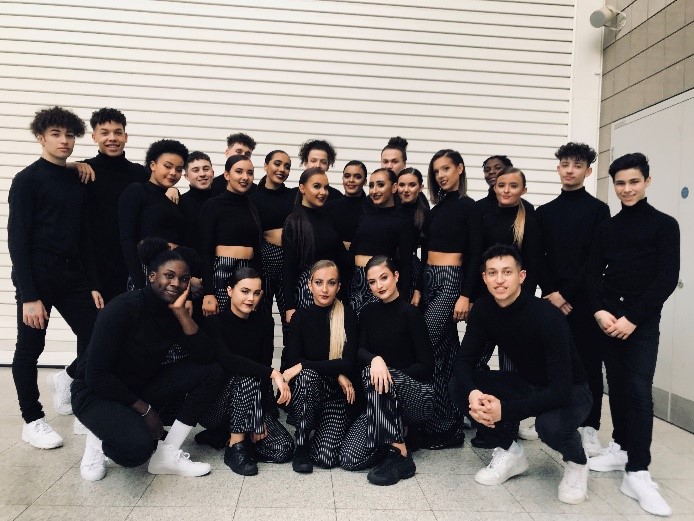 The event was a success with many interested students picking up prospectuses and being impressed with the talents of our Dance students. Congratulations to students in Nova , Rhythmia and Industria for representing BOA at the exhibition.
This term we have had a visit from Musical Theatre Alumni, Alex O'Reilly who has recently been starring in Mamma Mia on the West End. Whilst performing, Alex has also been delivering Performance Workshops to Dance and Musical Theatre schools. Alex was welcomed back to BOA on Thursday 8 March to deliver his workshops to our Year 12 Musical Theatre students and also joined our Year Musical Theatre students for a Q&A session. This was a brilliant opportunity for our current students to receive professional advice and seek guidance from our Alumni. We would like to thank Alex for his hard work in teaching the workshops.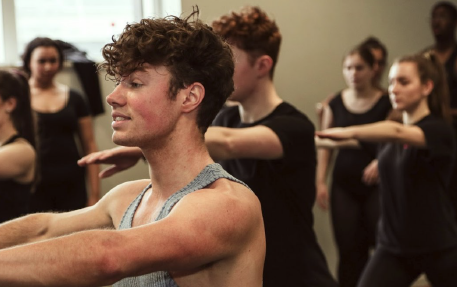 We've had more BOA Alumni success this term with Dance Alumni, Kieron Lee Covell who is currently a member of Transitions, Laban's professional graduate dance company and who, on Tuesday 27 March, performed at The Old Rep as part of Transitions 'Triple Bill' programme. Kieron and two other dancers from the company visited BOA and taught repertoire-based workshops to the year 12 dance pathway.
Kieron graduated from BOA in 2014 and undertook his under-graduate training at Trinity Laban, a dance conservatoire in London. Having successfully auditioned for their graduate company, Kieron started an intense training, working alongside dancers from across the globe. The company is well done for its exciting choreographic commission and Kieron has enjoyed developing his own artistry as well as professional practice.
He is now currently undertaking his first international tour performing dance works by high-profile choreographers from the UK, Finland and Israel. We wish him well and hope to welcome him back again.
Congratulations to our Year 13 Musical Theatre students who performed 'Sister Act' at the Old Rep Theatre from Thursday 22nd March to Saturday 24th March, covering 3 evening performances and 1 matinee. A group of these students also performed excerpts of the musical at the annual OAT Awards on Thursday 15th March. They performed really well and enjoyed the experience of performing in front of delegates of the trust. In addition to this, the same group of students also performed a 20-minute set to delegates of Creative England at Birmingham City University on Monday 26th March.
The Year 13 Dance students have performed their Final Major Project this week, in a production called 'Once', at the BOA Theatre. The show ran from Monday 26th March to Wednesday 28th March, and covered all styles of dance including urban, tap, ballet, freestyle, jazz and contemporary. Congratulations to all students involved.
Congratulations and huge thanks to our Technical Theatre Arts students who work tirelessly to support all of our productions. These shows could not go ahead without their hard work.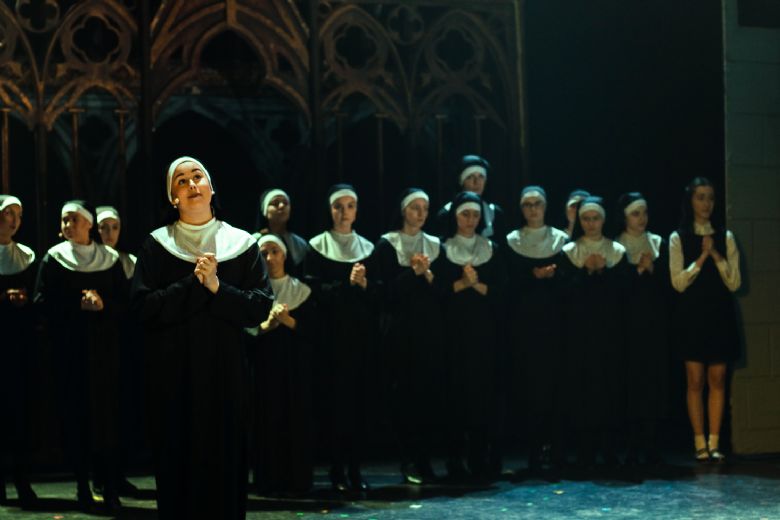 BOA students have applied to be part of two new initiatives for young people which have both launched this term, the Old Rep Youth Board and ORT Report. Successful applicants to the Old Rep Youth Board meet each half term to share ideas, review feedback and support the instigation of progressive and positive change, exploring the potential for young people to connect more with activities and opportunities at The Old Rep.
The ORT Report consists of four keen students from across Key Stage 4 pathways selected to review and blog around The Old Rep shows and activities. They have just submitted their first review for online publication, and are looking forward to interviewing some of the cast from a production this week. They are due to receive training from BOA Alumni, Amy Stutz who herself, has an award winning theatre blog 'Sincerely Amy' and who now is invited to West End and regional Press Nights.
On a personal note I have been to both the House of Commons and House of Lords regarding apprenticeships and the launch of the new council for Dance/Drama and Musical Theatre. I was invited to be a speaker at an international event organised by the British Council and HM Government. I hope this will bring exciting opportunities for both staff and students.
Have a lovely Easter.