May 2019
Principal's Blog May 2019
As I write the examination season is in full swing and I wish all our students all the best for their results. We have been very pleased so far by their efforts and attitude. My thanks also to our examination team and all the staff who help prepare the students and set up the examinations.
Our Year 13 students have begun to leave and their pathway courses have finished. It has been a pleasure working with them all this year and we wish them every success and happiness in the future.
Peer Mentors
One group of Year 13 students that I must pay tribute to are our peer mentors who work alongside our school councillor, Diane Paterson, to provide support to students throughout the academy. Their commitment and reliability has been outstanding. They enjoyed a thank you pizza in recognition of their work.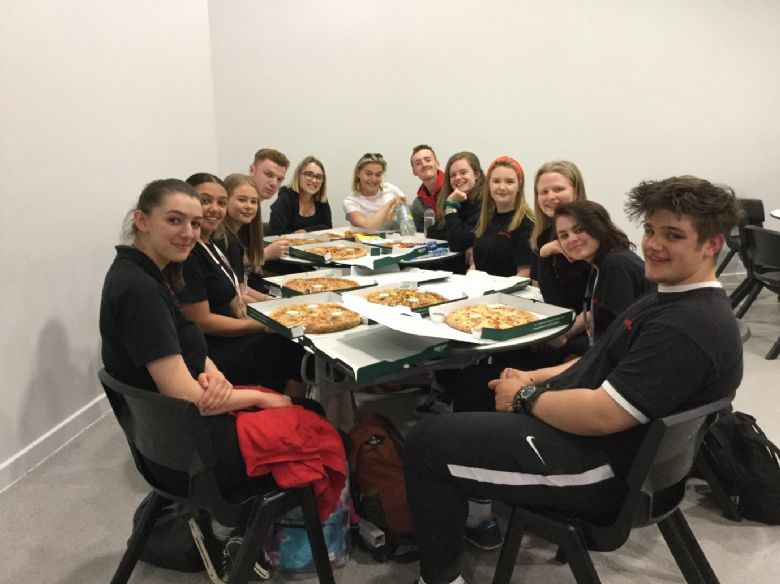 The new Year 12 peer mentors have been recruited and have started their training.
Dancing to Success
On Saturday 18th May five BOA students performed the opening dance for the BBC Young Dancer Live final and on Sunday 19th May our Nova Dance Company qualified for the grand final of the 'Can You Dance?' convention taking place on the 19th & 20th October in Liverpool. This is a fantastic achievement and recognition for all the hard work of students and staff.
Broadcast
In the last term B2 Radio has been refurbished with a new digital play-out system which is of industry standards. On Wednesday 8th May the students held their first B2 Radio day where they broadcast across the atrium and canteen area with students from all year groups presenting shows. Another Radio day is planned before the end of the school year.
Music
Our jazz ensemble performed at Symphony Hall on Friday 17th May as part of the Rush Hour Blues programme. They were great ambassadors for BOA and received many compliments for their performance.
We have a busy end to the year with lots of productions and activities planned. Please see the list below.
Yours
John Reilly
Principal

Diary Dates to End of Year
May
Monday 27th – Friday 31st May- Half Term Week
June
Monday 3rd June - Students return to school
Tuesday 4th June - Year 12 Futures Evening - BOA Theatre 6pm
Tuesday 18th June- Information Evening for new Year 12's- Art & Design; Broadcast; Dance; Music; Music Technology; Games Development & New Media Pathways – BOA Theatre, Arrival 6.00pm
Wednesday 19th June – Information Evening for new Year 12's – Acting; Musical Theatre; Technical Theatre Arts – BOA Theatre, Arrival 6.00pm
Friday 21st June – Year 11 Prom – The Birmingham Botanical Gardens – Arrival 6.30pm, Start 7.00pm.
Wednesday 26th – Thursday 27th June - Year 12 Music and Music Technology Showcase - 'Best of Brum' – BOA Theatre 7.00pm
Wednesday 26th – Thursday 27th June – Year 12 Musical Theatre: Decades – The Old Rep Theatre 7.00pm
July
Tuesday 2nd July - Year 10 Acting Show – 'Private Peaceful' - BOA Theatre 7.00pm
Wednesday 3rd July - Year 10 Acting Show – 'Not in My Name' - BOA Theatre 7.00pm
Wednesday 3rd – Thursday 4th July – Year 12 Dance – 'Raising the Barre' – The Old Rep Theatre 7.00pm
Tuesday 9th – Wednesday 10th July - Year 10 Musical Theatre Showcase - 'Heroes & Villains' – BOA Theatre 7.00pm
Wednesday 10th- Thursday 11th July Year 12 Acting 'These Violent Delights' –The Old REP Theatre 7.00pm
Friday 12th July – Staff Training Day
Tuesday 16th – Wednesday 17th July - Year 10 Dance Show - 'Odyssey' – BOA Theatre 7.00pm
Thursday 18th July –Digital & Creative Arts Showcase – The Old Rep Theatre 7.00pm
Friday 19th July – Break up for summer holiday – Lessons finish 12.15pm